The Premier League table… in unpaid invoices
23/05/2017
The Premier League season might have come to an end, with Antonio Conte's Chelsea the new champions of England – but they only come 14th in a different sort of league table released by Creditsafe.
Instead, Swansea and Middlesbrough are tied at the top of the credit agency's Prompt Payment Premier League, which ranks the top flight's teams by the average number of days beyond agreed terms that each club pays their invoices.
While both sides settle their bills just one day late on average, AFC Bournemouth and Burnley would secure the remaining two Champions League places, averaging four and five days beyond terms respectively. Champions Chelsea, meanwhile, find themselves some way adrift on 13 days.
At the wrong end of the table, Sunderland still can't get a break and lie bottom on 25 days, where they are joined in the relegation places by the two Manchester clubs, with City paying 21 days late on average and United 23 days beyond terms.
Manchester United, however, slip to the very foot of the table when it is sorted by the value of outstanding invoices. In the season The Red Devils shelled out a reported £89.3 million to make French midfielder Paul Pogba the world's most expensive player, the £857,183 that Creditsafe says they owe accounts for a staggering 66% of the £1.3 million the Premier League's clubs owe collectively.
Chelsea, with £85,325 in outstanding invoices, are their nearest challenger, followed by Arsenal on £67,242.
Bournemouth, Hull City and Southampton, meanwhile, are the only top flight clubs not to owe a single penny in unpaid invoices.
An accurate representation?
Whilst the Premier League is often celebrated as the most entertaining league in the world, its clubs are regularly criticised for the amount of money they spend on transfer fees and wages.
In the wake of last year's record television deal, for instance, its 20 clubs spent a record £1.165 billion on new players in last summer's transfer window, shattering the previous year's record of £870 million.
As such, business in the Premier League is seen as a completely different world to the business we're used to. But can any similarities be drawn from the Creditsafe research?
When it comes to late payment, the largest companies are regularly condemned for their payment practices, prompting the government to introduce new payment reporting regulations last month.
And it's interesting that four of this season's top five had the worst record for paying invoices – ranging from 17 to 23 days beyond agreed terms.
At the other end of the scale, the UK's smallest companies often say they are forced to delay payment due to the pressures on their cash flow from receiving payment late themselves, or because they need more breathing space.
This, however, doesn't translate to the Premier League, with seven of the eight clubs which turnover less than £100 million (comparatively small in Premier League terms) in the top ten for prompt payment.
Rachel Mainwaring, operations director at Creditsafe UK, said: "In recent years we have seen the emergence of a late payment culture in the UK. Even in the Premier League, with all the money that is available to its top clubs, late payment is rife.
"As this year's Premier League season comes to an end, it's interesting to see that lower placing clubs pay their bills the fastest. In fact, excluding Sunderland, it's the top ranking clubs of 2017, with turnovers over £250 million, that pay the latest and finish in the relegation zone of our alternative Premier League table."
Creditsafe's alternative Premier League table in full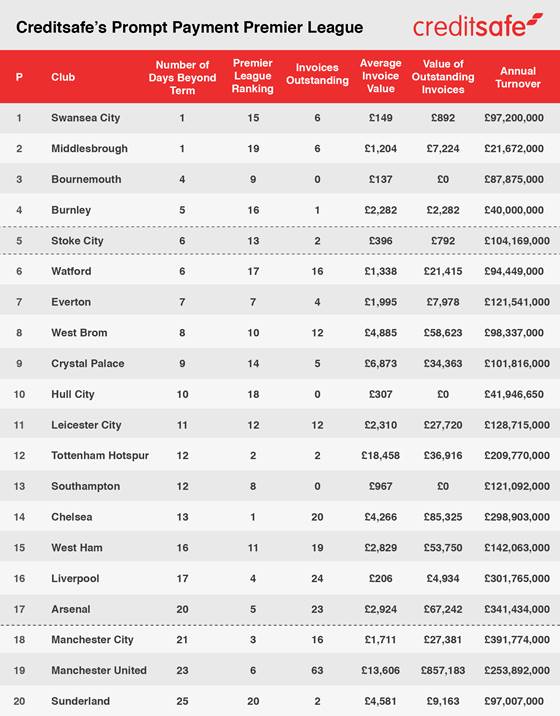 What do you make of Creditsafe's table? Do you think comparisons can be drawn with your own experiences? Please leave your comments below.